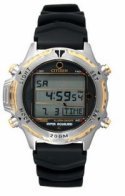 Digital Watches
---
Digital Watches:
If you are looking for a digital watch your choices are almost endless. Digital watches are offered by the best top brands, and come in many shapes, sizes, and price ranges. Many Designer watch lines contain digital watches of analog/digital combination watches.
The first digital watch, was jointly developed in 1972 by Hamilton Watch Company and Electro-Data Pulsar, as an upscale 18-carat gold watch that sold for $2,100 at retail. It had a red light-emitting diode (LED) display and required the wearer to press a button to view the time display. Later, liquid crystal display (LCDs) watches were produced, which used less battery power and were more convenient for the user since the display could be read at all times. Modern digital watches were made affordable to the average watch consumer in 1975 when Texas Instruments began mass production of Light Emitting Diode (LED) watch components. Digital watches with these components could then be retailed for only $20.
We also offer a review selection of digital watches and timepieces. Whether you need a pocket watch, man or lady watch, sports, training watch, you'll find it here.